Utilizing the opportunity of 'GoTo Travel' campaign by Japanese Government to support the travel industry suffered from COVID-19, my wife and I planned to go to a round trip to Lake Biwa in Shiga.
My friends and acquaintances are riding road bike or even running for over 200 km, but we chose to drive around the lake for safety.
It was a rainy and strong windy day to start the trip.
Our first plan was to visit Sagawa Museum near the Lake first because of avoiding lousy weather,
But early in the morning my wife found by internet that the Museum had been closed in that
week exceptionally. It would be open the following day.
We discussed and decided to go to the Lake Biwa Terrace fist by taking a risk of terrible weather as it was located 1100 meter above the sea level.
We started driving at 9 am in the rain and arrived the entrance to the ropeway around noon.
It cost us 1000yen for parking and 3000 yen each for taking the ropeway.
The ticket seller asked us with some concern if we would really go up the mountain because a camera at the top of the mountain showed us rainy scene with much cloud and no view.
She said that wind blew 18 meters per second there.
It's OK, we will go up.
Actually, we had no other option at that time.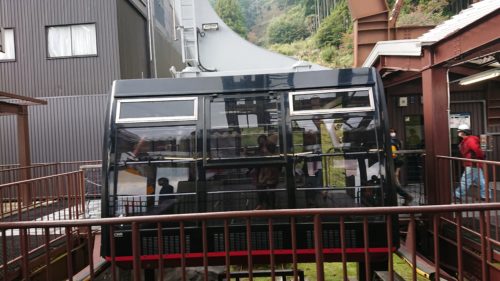 We reached and faced strong wind but not much rain fortunately.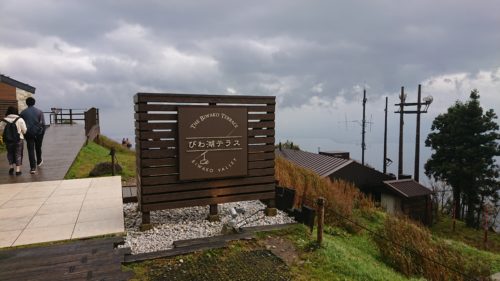 We walked around the terrace and took some pictures, including trees in early autumn and big Lake.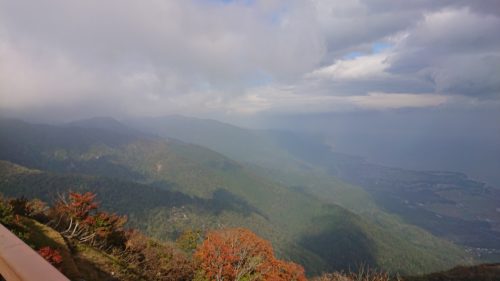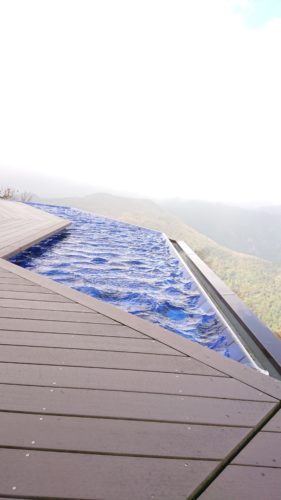 We enjoyed staying there for an hour and took a ropeway again and drove north part of the Lake to the hotel which was located near Maibara City.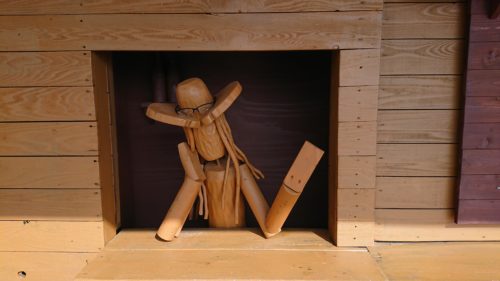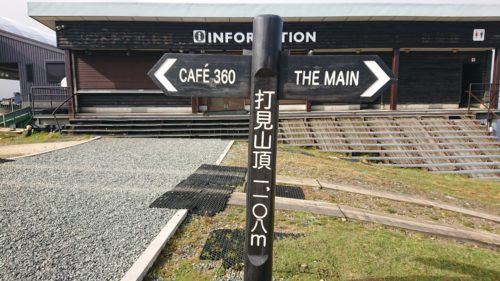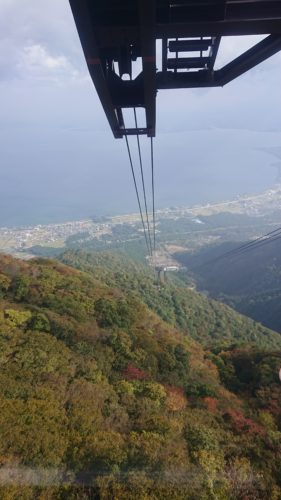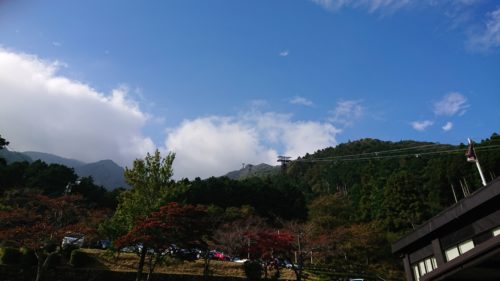 Thanking for the campaign, we enjoyed delicious dinner and relaxed in the hotsprings.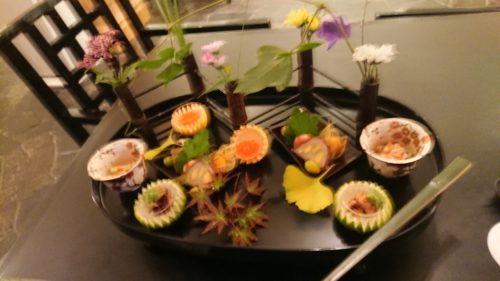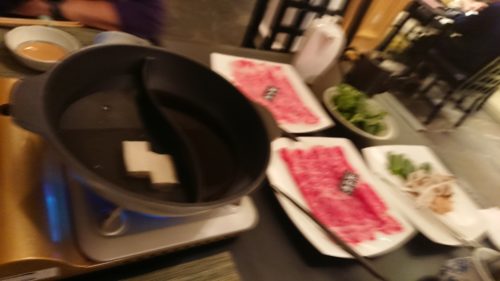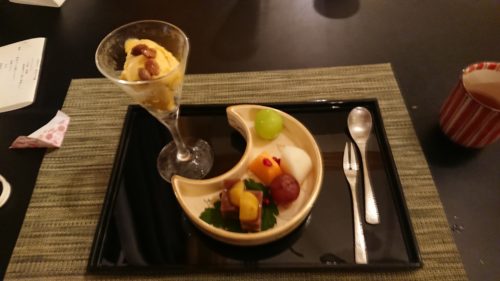 Next morning, I went out to jog along with the coast.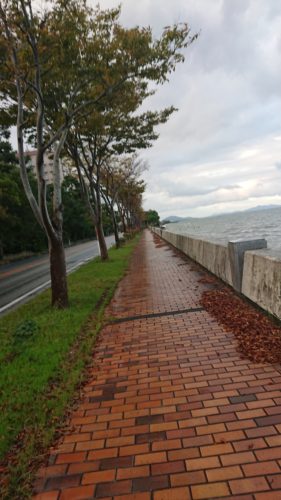 It was still windy but seemed to recover in the afternoon.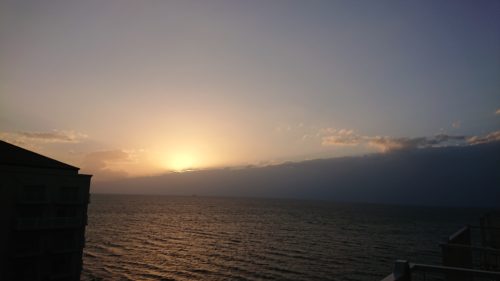 My friends were climbing Bunagatake Mountain which was north part of the Lake.
I took a picture of Lake Biwa and sent to them for joy.
That morning we drove to Sagawa Museum.
We drove 40 km from the Hotel by enjoying sunshine and beautiful coast line of the Lake.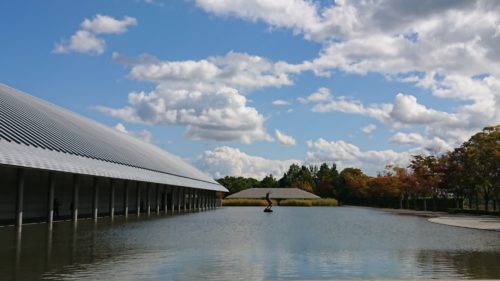 The Museum was established by Sagawa Transport Company which is one of the large delivery company in japan.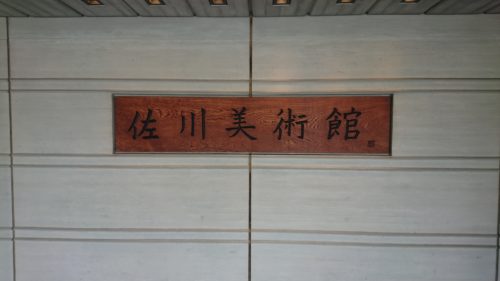 It was as if floating on the water and had some statues in the water.
It has several pictures painted by Ikuo Hirayama who had been very keen to pursue painting Silk Road.
Unexpectedly, it had exhibition of 'Moomin'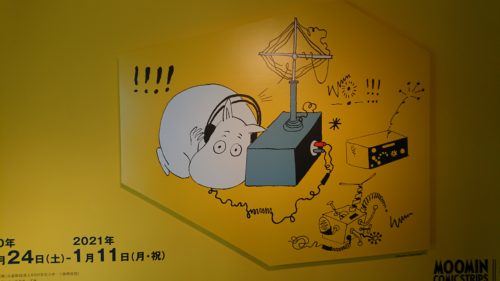 I recognized that Moomin was comic for kids but I learned that Tove Jansson had been more an artist than a simple comic illustrator and Moomin was rather a cartoon than just a comic.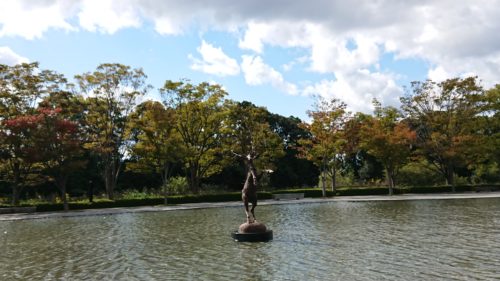 After the Museum, we drove back to our house where our lovely kitty should have been waiting for us.
When we reached the house, the kitty approached us as usual. No change.
But she seemed to be stay with us longer than usual.
She seemed to be glad for us to come back home.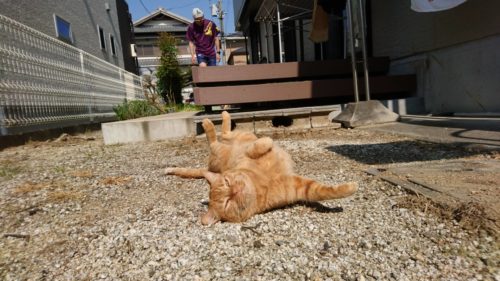 Maybe she had been lonely for one night. Sorry.